Whistler housing prices could triple by 2010: report
The already unaffordable town set to become Aspen-ized as growth continues
-- by Brian Morton, Vancouver Sun Monday, October 22, 2001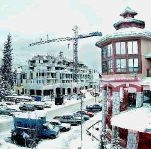 Peter Battistoni, Vancouver Sun / As the town of Whistler reaches its development limit, prices are likely to skyrocket, with only the super-rich being able to afford even a modest family home.
A federal survey says the average price of a single-family home in Whistler could more than triple to $3 million by 2010, and that worries a Whistler councilor who has lived there for 25 years.
"We call it the 'Aspen'-ization of Whistler," said Councilor Ken Melamed, a local stonemason who lives in the same 180-square-metre A-frame house he bought for $64,500 in 1976.
"Whistler is already becoming much more expensive and gentrified, with long-time residents cashing out and moving to places like Pemberton or Squamish. But we don't want Whistler to become just another Aspen, where the locals moved out and all you have now are second and third homes for the wealthy with nobody living there."
The Canada Mortgage and Housing report, called the Whistler Housing Market, suggests that Whistler, which will reach a "build-out" stage in two years (when the resort reaches its development limit), could go the way of Aspen, the super-rich mountain resort in Colorado where the average price of a single-family home is almost $3 million US.
"Perhaps Whistler prices will catch up to Aspen prices, or even exceed them," concludes the report. "Even if prices in Whistler continue to increase by a relatively modest 10 per cent per year, the average price of a single-family home will reach almost $3 million shortly after 2010."
The average price of a single family home in Whistler now stands at $945,000 CDN, down slightly from $990,000 in December, 2000. That makes Whistler the most expensive municipality in Canada -- but still relatively cheap by international standards.
"The average price of a single family home in Aspen increased from just under $1.4 million CDN in 1992 to just over $4 million CDN in 1999, tripling in only seven years," the report adds. "In Whistler, the average price of a single family home increased from $285,145 in 1992 to $880,000 in 1999.
The report states that if Aspen houses increased at Whistler's rate (10 per cent a year), the average single family home there would be valued at $13 million CDN in 12 years, "which certainly does not seem implausible."
It said prices in Whistler -- which now has Canada's most expensive listing at $11.2 million (plus $700,000 GST) -- could even exceed those in Aspen at some point.
The 64-page survey, which was released this summer, also looked at the possible impact of the 2010 Olympic bid on Whistler and the Sea-To-Sky corridor.
It said that because Whistler is already well known on the world stage, "it is probable that the impact of the Winter Olympics would be more significant for Squamish and Pemberton than for Whistler."
"In many ways, the situation of Squamish is similar to that of Canmore, Alberta, which has experienced a housing boom since the 1988 Winter Olympics were held in Calgary. [And] it seems likely that faster and easier commuting between Squamish and Vancouver and Squamish and Whistler would have a positive impact on the Squamish real estate market."
The report notes that housing prices in communities near Aspen are also high: single family homes in Glenwood Springs, about 65 kilometres from Aspen, average $390,000, while similar homes in Basalt, about 35 kilometres from Aspen, average $600,000 to $1 million CDN.
The survey states that Whistler, with a permanent population of about 10,000 (up from fewer than 5,000 10 years ago) and more than two million skier visits per year (Vail and Aspen have about 1.3 million and 1.4 million respectively), has become better known internationally.
The report notes that buyers are attracted by a number of factors, including Whistler's increasing international exposure, the lack of good snow in Colorado ski resorts in recent years, the low Canadian dollar, improved infrastructure, new hotels, and the Internet, which has revolutionized resort marketing.
Melamed said Whistler council is committed to promoting affordable housing and, to that end, the Whistler Housing Authority helps employees find cheaper housing.
But, he added, Whistler is beginning to lose its charm. "It doesn't feel like a real home town like Pemberton or Squamish, where you run into your neighbours all the time and everything isn't out of your price range. The shops here are already catering to a more expensive clientele and the trend is going to get worse."
He cited a new development where 29 estate homes are slated to be built. "The lots alone will start out at $1 million. And that could be conservative."
Whistler Real Estate Company president Pat Kelly agreed in an interview Sunday that prices could triple over the next decade.
He said there's been a "wait-and-see" attitude by some buyers since the Sept. 11 terrorist attacks, but no substantial change in the market. "We're just as busy as we were before Sept. 11, from a real estate point of view. And a number of people from the U.S. and Europe now look at Whistler as a safer place to invest in than the U.S."
---